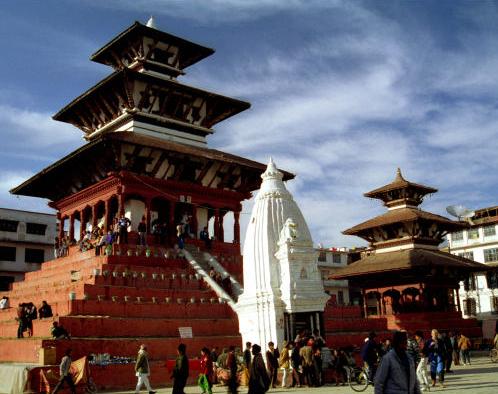 Today, Heather (another AP Peace Fellow based in Nepal for this summer) and I went on a little walking adventure to see Hanuman-Dhoka Durbar Square – a UNESCO World Heritage Site consisting of a large square with several beautiful ancient brick temples, each one probably about three or four stories in height. The temples in and of themselves were a sight to see, but my favorite aspect of the scene was that on the steep stairs of each of these temples, there were couples nestled in among the archways sculpted onto the walls, smiling and laughing quietly with one another, holding hands occasionally. Not just couples – also small groups of friends, elderly men and women, sisters. It struck me as such a picturesque place to be able to frequent, to hang out and talk, that I found myself wishing that I was also sitting with a group of my friends at the top of those stairs as well, idly passing the time and enjoying the brief respite from the rains.
It's different, though, when you're a tourist. It's so difficult to be a foreigner in places like these – you are so aware of your foreign status that it is almost debilitating. There is this ever-present sense of contradiction and discomfort in the simple fact of existence. The maze of streets and markets and noise and chaos and shops selling everything under the sun is simultaneously exhilarating and exhausting. Faced with sights of poverty and hardship, you desire to help and at the same time reprimand yourself for the inherent superiority tied to the concept of 'helping'. A ragged child begs for money and you're hit by a whirlwind of feelings – pity for the boy, concern for the morality of giving money to begging children, self-doubt as to your own hesitance, frustration at being singled out and targeted as a foreigner, discomfort with being relentlessly pursued, guilt for being a citizen of a wealthy country, guilt for giving, guilt for not giving. It's similar in some ways to giving money to the homeless in the United States – only a hundred times magnified by the sheer scale of the poverty.
I think that the poverty is the primary cause of the sense of guilt – you feel so aware of your own comparative wealth that it further increases your sense of being an outsider, and makes you feel guilty for the presumption of even traveling to such places. Certainly photography results in a similar discomfort – the simple act of taking a photograph becomes imbued with the same tensions – of wealth, of foreignness, of placing yourself outside of the scene which you capture. It's enough to prevent me from taking a single picture – and it has, in the past. Now that it's part of my job, I can't escape it – and perhaps it grants me a bit more of a feeling of legitimacy in putting that extra distance between myself and my surroundings.
The scene on the way to the square was incredible, though – men sitting in tiny rooms surrounded by shoes, or brilliantly colored bolts of fabric, or copper pots and pans glinting in the sun. Motorcycles, bicycles, taxis careening past within a hairsbreadth of you, honking and whistling and gunning their motors. The endless hustle and bustle of people buying, selling, just looking – open air markets filled with fresh produce, women surrounded by heaps of lettuce, men sitting behind large barrels of grain. Old men walking past half-bent with enormously heavy bags on their backs, tied to their heads. Mangy dogs snarling at one another, children splashing in muddy puddles, temples coming into view at every turn with old men sitting at their bases, gossiping to one another with toothless gums.
A building in the Thamel district of Kathmandu
Rickshaws in the Thamel district
Posted By Raka Banerjee
Posted Jun 20th, 2008